Consumer unit replacement london
Ensuring Your Safety 
When you require a consumer unit replacement in London, we provide a friendly and reliable service at highly competitive prices. At My Personal Electrician, we prioritise the safety of your electrical systems and take great care when completing work on your property.
Our team understands the importance of a secure and well-maintained electrical system in your premises. When it comes to consumer unit replacements, we handle the task with meticulous attention to detail and a commitment to delivering exceptional results.
By opting for a consumer unit replacement, you can ensure that your electrical system meets the latest safety standards and regulations. Our skilled electricians will install a new consumer unit that offers enhanced protection against electrical faults, providing you with peace of mind.
A consumer unit is often referred to as a fuse box, distribution board or fuse board. Consumer units are installed in domestic properties, composed of several components and power all the circuits in a property. They provide control, distribution, and protection to the final circuits in an electrical wiring installation.
If you have an old-style consumer unit, it's recommended that this be replaced. Modern consumer units substantially reduce the risk of electric shock or electrical fire in your property, so it's worth considering a replacement.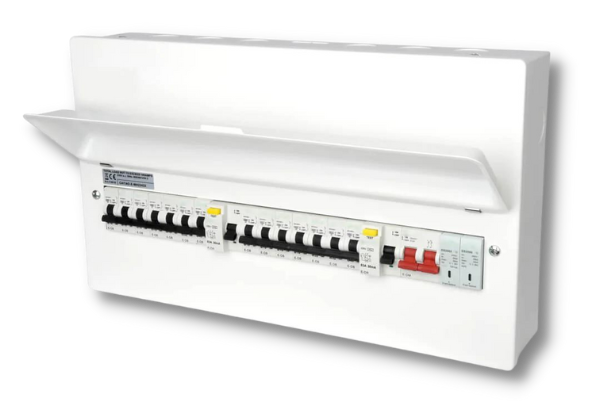 What's Involved in a Consumer Unit Replacement?
Before replacing your consumer unit, we will conduct a thorough assessment of your electrical system to ensure compliance with safety regulations. If any components are found to be non-compliant, they will also need to be replaced for the overall safety of your system.
Once we have determined that your electrical system is safe, we will proceed with the replacement of your old consumer unit. Our skilled technicians will install a new unit and conduct comprehensive tests to ensure that everything is functioning correctly and meets safety standards.
Typically, consumer unit replacements can be completed within a few hours, allowing for minimal disruption to your daily routine. We prioritise efficiency and professionalism in our work to deliver timely and reliable service to our valued customers.
Why Choose Us?
 When it comes to your consumer unit replacement in London, choosing the right company is crucial. At My Personal Electrician, we offer compelling reasons why we should be your trusted choice. 
Timely Service: As a London-based company, we understand the importance of prompt service. Our team is committed to being with you in a timely manner, ensuring your consumer unit replacement is carried out efficiently and without unnecessary delays.
Years of Experience: With over 18 years of industry experience, we possess the knowledge and skills necessary to handle your consumer unit replacement to the highest standard. Our extensive track record demonstrates our ability to deliver exceptional results, leaving our customers satisfied and confident in our expertise.
Checkatrade Verified: Your peace of mind is our priority. We take pride in our long list of happy customers, evident through our Checkatrade profile. By choosing us, you can rest assured that your electrical systems are in safe and competent hands, backed by the positive reviews and testimonials from our satisfied clients.
Competitive Prices: We understand the importance of providing high-quality service at affordable prices. My Personal Electrician offers competitive rates for our consumer unit replacement service, ensuring exceptional value for your investment.
Local and Friendly: As a local company, we are dedicated to serving our community. We value the relationships we build with our customers and strive to provide a friendly and approachable service. You can expect personalized attention and a warm, customer-centric experience when working with us.
Commitment to Customer Service: We take great pride in our commitment to delivering exceptional customer service. Our team goes above and beyond to ensure your satisfaction throughout the entire process. From the initial consultation to the completion of your consumer unit replacement, we prioritize open communication, transparency, and your overall satisfaction.
When you choose My Personal Electrician for your consumer unit replacement in London, you can expect a reliable, experienced, and customer-focused service. Contact us today to discuss your electrical needs and experience the difference we can make for your home or business.
It was great to reconnect with Byron at My Personal Electrician this week, and get some lights fitted by a reliable, trustworthy & tidy electrician who clearly takes pride in delivering quality work for his customers.
Just a small 1hr job completed this time, but Byron previously did a larger scale fuse board & external wiring and installation work 8 years ago (which is still working perfectly)…
I will definitely use him again, and would happily recommend him to others.