Professional House Rewire In London
Our House Rewire Services In London Include:
Full Electric Rewire
My Personal Electrician offers an exceptional full-house rewire service. Our electricians are fully qualified and equipped with the latest technology to complete a full house rewire in London.
Partial Rewiring
My Personal Electrician provides partial rewire services like upgrading or replacing a small section or several circuits of your property.
Diagnosis, Repair And Alterations
My Personal Electrician can install extra sockets or lighting points like downlight fixtures that will require the alteration or addition to an existing circuit.
New Kitchen Electrics
My Personal Electrician can either rewire your kitchen prior to a contractor fitting the kitchen, or we can provide a full service and carry out all the work.
Step 1: Fill out our online form to request a free estimate for a house rewire in London.
Step 2: Once you accept the quotation, a member of the team will contact you to explain the process and book a convenient appointment.  
Step 3: The engineer(s) will arrive on the day to carry out the rewire. 
Step 4: We carefully plan all the locations for your electrical system and mark the fuseboxes, routes, and chases.
Step 5: Heavy plant machinery is used to create channels within the walls and space for the new electrical boxes and accessories.
Step 6: Our electricians get to work installing new wires for circuits like lighting fixtures and fittings.
Step 7: Before handing over your home, we test the re-wiring to ensure everything is in good, safe, working order.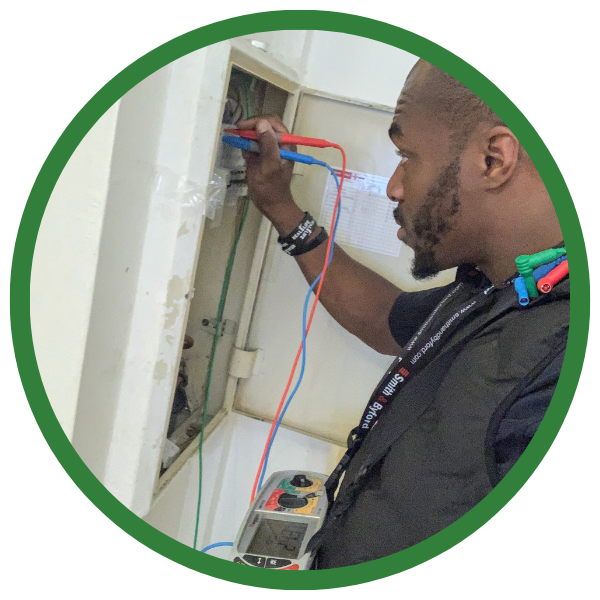 Why Trust Us For House Rewiring In London?
Skilled Electricians

Our specialist electricians have undertaken hundreds of rewiring projects on a wide range of homes.

Smart Planning

We plan everything to arrange your home rewiring project to make the most of your investment.

Mess-Free Rewiring

We understand how messy electricals can create, and we provide you with a hassle-free solution.

Great Support

 We have an after-sales team that provides future support that may be needed to fix all electrical issues for you.
Electrical or Maintenance-related issues?
Areas We Cover
Whether general electric needs or emergency electrician services, we have electricians ready to help customers in entire London areas including  East London, South London, West London, & North London.